Humboldt Award for Geoffrey King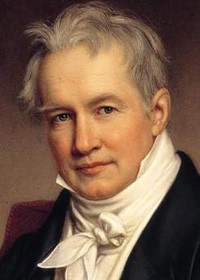 Geoffrey King has recently been awarded a Carl Friedrich von Siemens Research Fellowship of the Alexander von Humboldt Foundation.
The award is in recognition of past scientific accomplishments and provides funds to undertake prolonged periods of research with colleagues in Germany and to promote international scientific cooperation. Geoffrey will spend time at the Ludwig Maximilians University Department of Earth and Environmental Science in Munich, where DISPERSE already has established contacts with Anke Friedrich and Simon Kübler.
The Humboldt Foundation is named after Alexander von Humboldt (pictured), the 19th century naturalist, explorer and geographer, and funds research fellowships and awards to promote international collaboration and cooperation amongst scientists and scholars.